RING US
9624 7766
Mon to Fri
8.30am to 5.30pm
INSURANCE AND RISK
Should I insure my goods?
Transit, Removals &
Storage Insurance
Moving involves risk, and the removalist is not legally liable for anything that happens that is not the removalist's fault.
In other words, you are not covered for unforeseen circumstances or accidents, unless you have separately insured the goods. That's why we recommend you take out insurance, for the risks we can't protect you against.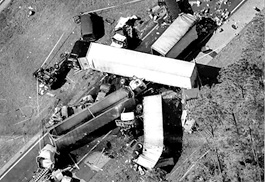 Who caused this?
Baulkham Hills Removals holds a "Customer Goods in Transit & Storage" insurance policy. For an additional fee, we can arrange for this policy to cover you. This is because we are an Authorised Representative of a Licensed Insurance Broker, in this case Aldridge & Street a Division of Cowden (Vic) Pty Ltd AFSL LICENCE NUMBER 245658
So, if any removalist tells you "it's all insured" or "we have a policy" or worse still "everything will be alright", ask them to provide the following evidence of cover:
A Certificate of Insurance that names you (not them) as the beneficiary of the cover. This policy should show your name, your address and the name of the Insurance Company who is providing the cover, along with any excess if applicable.
A policy wording, that explains the Terms & Conditions of the insurance cover.
A Financial Services Guide (FSG) and a Product Disclosure Statement (PDS). This is a legal requirement of the Australian Securities and Investment Commission for any offer of insurance or financial service.
NOW, FINALLY... scroll back to the top of the page and study that photo again. There's at least four trucks in there, plus a car, plus a boat trailer. Would this be a good time to discover that the removalist who said "everything will be alright" really doesn't have you covered for this event?
CALL BAULKHAM HILLS REMOVALS FOR MORE INFORMATION ABOUT
TRANSIT & STORAGE INSURANCES. Phone 9624 7766.
PLEASE NOTE: The information given above is only general advice and does not take into consideration your individual situation. You should read the Product Disclosure Statement carefully before you decide whether to take out Customer Goods in Transit and Storage insurance and choose from the various options available. It is up to you to make sure the cover you choose suits your needs.